Veterinarian and Owner
Dr. Steven Schuder grew up in Grand Rapids, MN and attended Montana State University for undergraduate studies in Animal Science. He received his Doctor of Veterinary Medicine from the University of Minnesota and has been at Duluth Veterinary Hospital since 1995. His professional interests include long-term human-animal bonds, surgery and medical orthopedics, and end of life care.  Dr. Schuder belongs to the American Animal Hospital Association, the Minnesota Veterinary Medical Association, and the Arrowhead Veterinary Medical Association. He enjoys fishing, running, cross country skiing, hiking and biking with his wife, Karen, and their three children – Josh, Caleb, and Sophia.  His four-legged family members include Mindy, a Golden Retriever rescue, and a longhaired cat named Kikkan.
Veterinarian and Owner
Dr. Kristin Dank was born into a military family and has lived throughout the United States as a result.  She graduated from the University of Minnesota with a B.S. in Genetics, Cell biology and Development.  She graduated from the University of Missouri's College of Veterinary Medicine in 2014, and has been practicing in Minnesota since.  Her professional interests include small animal dentistry and internal medicine, and she enjoys the challenge of working with patients who can't tell you what is wrong.  Dr. Dank looks forward to building lasting relationship with the animals and people who come to Duluth Veterinary Hospital. Her pet family includes four rescue dogs: a Jack Russell/Beagle mix named Lady, a Pit Bull/German Shorthair mix named Jax, a Labrador/Dachshund mix named Benelli and a Pit Bull mix named Angus.  Even with 4 dogs, Dr. Dank's cats Marshmallow, Batman and Edgar are the ones who are truly in charge. In her free time, Dr. Dank enjoys spending time with her sons, husband, and four legged family members.  Outside of veterinary medicine, she also loves traveling, skiing, hiking, and camping.  
Associate Veterinarian
Dr. Scott Beeman grew up in West Des Moines, Iowa.  He graduated from Dordt College with a B.A. in Business Administration.  He received his Doctor of Veterinary Medicine from Iowa State University in 2010 and spent the first decade of his career practicing in Adel, Iowa before joining Duluth Veterinary Hospital.  Dr. Beeman's professional interests include acupuncture, pain management, internal medicine, and surgery, and he is dedicated to serving the human-animal bond.  He is a certified veterinary medical acupuncturist with additional training in medical massage and laser therapy. Outside of work, he enjoys spending time with his wife and three children, hiking, camping, and playing music on a variety of instruments.  His pets include a Golden Retriever (Rushy), two cats (Ginny and Walter), a rabbit (Phillip), and a ball python (Baz).
Denise
Office Manager
Denise, our office manager, has been with us working hard since 1987.  She graduated from UMD with a major in biology and a minor in chemistry.  She started working at Duluth Veterinary Hospital when we were still in the old building where Freeway 35 meets London Road.  Denise remembers painting the boards on our present building and spending a long weekend moving everything in to start business on Monday. She has had many beloved cats and dogs over the years, and used to show her French Bulldog and several Great Danes in conformation and agility.  Her Frenchie even went to the Westminster dog show one year! 
Joanne
Licensed Veterinary Technician
Joanne, LVT, graduated from NDSU Veterinary Technology program in 1989 and has been with the Duluth Veterinary Hospital since the spring of 1995.  She has a huge love for Terriers and has 1 Jack Russell named Clara.  Away from the hospital Joanne enjoys family time with her husband and son, fishing, snowmobiling, and being her son's #1 fan at all his sporting events.
Jodi
Certified Veterinary Technician
Jodi is one of our longest serving veterinary technicians and has been with us since 2003.  She is a life-long animal lover who attended Ridgewater College in Willmar, MN for her CVT degree. While not at work, she loves spending time with her family, helping others find lost pets and spending time with her two wonderful rescue dogs. Tizzy, a not-so-smart but lovable lab mix and Pixie, a sweet, old lady lab mix!
Jodi F.
Receptionist
Jodi F. is a veterinary assistant who has over 30 years in the rescue/veterinary world.  She is married and has 3 grown children and 2 grandchildren.  Jodi has a Dobie mix named Bailey, Cooper, a rescue dog from South Korea, Tessa, a terrier mix she adopted from HSDC, a cat named Sophie, and an African Grey parrot named Gonzo!  She loves spending time with her family, especially her grandkids.  Jodi also enjoys reading and golfing in her spare time. 
Amy
Certified Veterinary Technician
Amy, a Certified Veterinary Technician, graduated from UMD in 2010 with a biology degree and completed the Veterinary Technician program at the Minnesota School of Business in 2012.  She has worked in veterinary medicine since 2011 and loves it! Amy enjoys spending time outside with Samson, her dachshund mix, as well as reading, music, arts, crafts and spoiling her two cats, Barty & Benny.
Kayla
Veterinary Assistant
Kayla, Veterinary Assistant, is a lifelong Duluth resident. She graduated from East High School in 2016 and from Itasca Community College in 2018 with an A.S. Degree in Engineering. After changing career paths, she began working for DVH and is attending an online Veterinary Technician program through St. Petersburg College. In her free time, she enjoys running, spending time by the lake, and hanging out with friends, family, and her dog Buddy.
Lauren
Veterinary Assistant and R

eceptionist
Lauren, Veterinary assistant and Receptionist, graduated from Superior in 2017. She then went off to UW-Stout to pursue Communications and photography, as photography has always been her favorite hobby. When career changes were made she realized she wanted to come home. Lauren grew up on a hobby farm and her first job was being a pooper scooper at dog shows.  She loved growing up with more than 15 different species of animals in her back yard! She now has an adorable cat of her own, Arthur.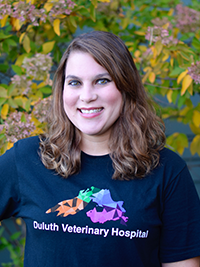 Kari
Veterinary Technician
Kari, a Veterinary Technician, was born and raised in Duluth, MN, and graduated from DBU from the Veterinary Technician program in late 2014. Kari started working at Duluth Veterinary Hospital in early 2015. She loves cats and has one of her own, Abby. Kari married her husband, Eric, in July 2019 and moved to Mankato, MN. After much discussion they both decided that it was best for them to move back to Duluth. Kari is thrilled to now be back at DVH!
Elinor
R

eceptionist
Elinor is originally from Austin, MN.  She has a bachelor's degree in music business from North Central University.  Elinor moved to Duluth with her husband and three sons in 2019.  She loves doing a variety of things outdoors and being near Lake Superior.  Her furry family members include cats named Bruce and Leo. 
Maggie
Veterinary Assistant
Maggie moved to Duluth in 2010, and was married in 2015. She has a sweet 4 year old as well as two amazing teenage stepdaughters. Maggie loves plants and animals. In her free time she enjoys baking as well as breeding Holland Lop rabbits. Her family has an amazing 15 year old black lab named Sally, a crazy cat named Snowflake and a 12 year old cockatiel named Rosemary. To add to the animal fun she also has a few reptiles and has been breeding fancy mice (for pet and show) for just over 10 years. 
Rebecca
Veterinary Technician
Rebecca, a Veterinary Technician, moved to northern Wisconsin when she was a child and graduated from the Veterinary Technician program at Duluth Business University in 2014. She lived on a farm growing up and has worked with animals her whole life.  Rebecca has 2 dogs, 3 cats, and two bearded dragons. She loves hiking with her son, boyfriend and dogs, and fishing/camping on her time off.  
Helena
Veterinary Assistant
Helena, a Veterinary Assistant, is originally from Wausau, WI and moved to Duluth in 2018.  She graduated from UW River Falls with a B.S. in Animal Science and has two cats named Peep and Lexi. In her free time, Helena likes to spend time outdoors and go camping.